Retreaver makes it simple to give Publishers and Buyers access to all the necessary functionality they need to track their calls. Through Publisher and Buyer roles, you can grant secure access to your partners and help them efficiently collaborate with you.
Affiliates and Buyers are able to login to Retreaver as collaborators and can view their own dashboard and Call Log. They can run reports on their calls and even interact with our API, all under the security provided by their permission-restricted role.
Caution
Do not share your login information with anyone, we have implemented systems to collaborate with other users safely in a controlled environment.
The Publisher Role
Publisher Role
Publishers are used in the Retreaver system to segment call traffic by source. You can use the Publisher role to grant access to the parties responsible for driving your traffic.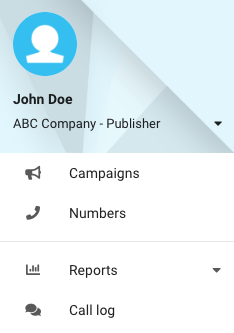 The publisher role allows you granular control over which campaigns and phone numbers each publisher has access to. Publishers can only create new phone numbers if your per-affiliate "number cap" allows it and only for campaigns that they have been manually granted permission to access.
Publishers can view calls that were generated through any phone numbers that were assigned to them, but only limited information as defined by the collaborating publisher's permissions. Any calls that were generated before they were granted access to a phone number will not be visible to them.
Default Publisher Permissions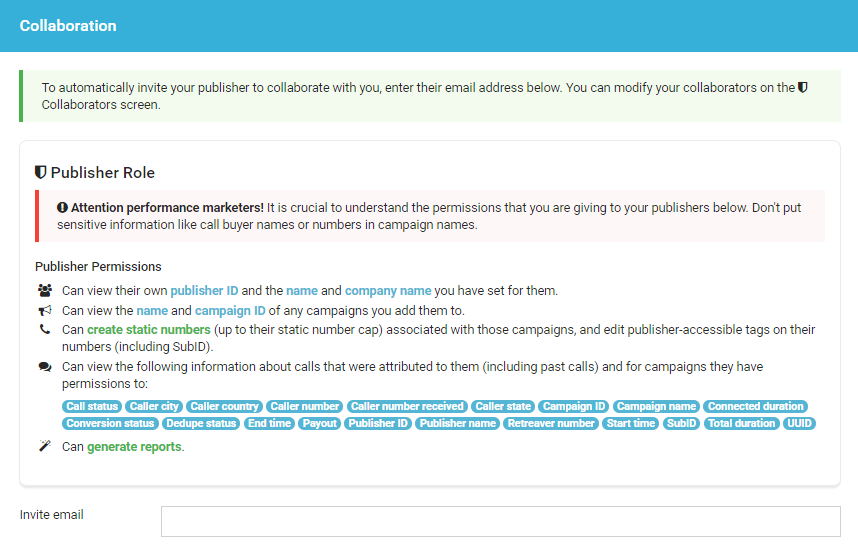 Collaborating publishers can view certain call details from calls that they generated. By default publishers will not be able to view which endpoint/buyer processed their calls.
The Buyer Role
Buyer Role
Buyers represent the final destination that call traffic will be routed into. If you aren't selling your traffic to others, you might wish to use the Buyer role to grant access to your calls' recipients, such as individual stores, branches, or call center managers instead.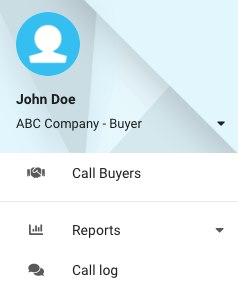 When creating or editing a Buyer, you can invite them to collaborate with you by entering their name and e-mail address under the collaboration field. Once they accept the invite, we'll only give them access to calls that are routed to Buyer's associated with them. They won't be granted access to any calls that were unanswered by them and sent somewhere else.
Buyers are granted access to any calls that have been routed to them. Buyers can run reports, listen to call recordings, and conduct their own data analysis.
Default Buyer Permissions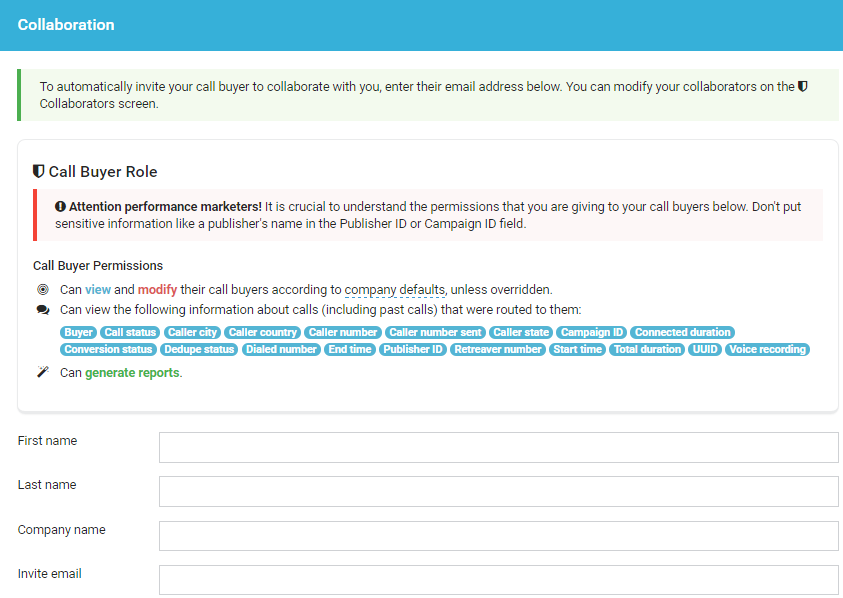 Collaborating buyers can view call details from any calls that they processed. By default buyers will not be able to view which publisher generated the call.
Inviting a Publisher or Buyer as a Collaborator
Inviting a Publisher or Buyer as a Collaborator
View our "How to create collaborators" guide to learn how to invite Publishers or Buyers to collaborate with you. They'll be sent a confirmation email, and will then be able to interact with your account through their own logins with permissions specified.

Inviting a collaborator. Click + Invite from the collaborator screen to add a new collaborator. Enter their name and e-mail address, and select which Publishers and/or Buyers you want the collaborator to act as in Retreaver. Once you click Invite at the bottom of the form, we'll invite your collaborator and you must now configure their permissions.
Configuring Collaborator Permissions