Campaign toggles include a variety of options that let you control how your campaign will process incoming calls. As you set your Retreaver account up for the first time, it is recommended that you configure your Default Toggles for your Company that all new Campaigns will inherit, including how repeat callers will be routed.


---
Campaign Toggles Overview
Setting Company Default Campaign Toggles
Setting Company Default Campaign Toggles
In the menu on the left, go to Settings, then Company, from here, select the middle tab titled Default Toggles.



Note
Changing the Default Campaign Toggles will not affect any existing Campaigns. These settings are merely the default configuration that any newly created Campaigns will have upon creation.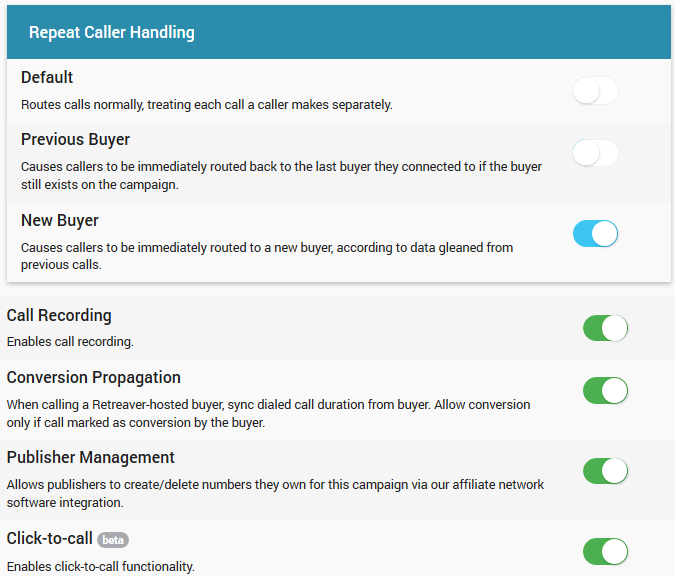 Your individual edition of Retreaver may depict the word Buyer as Call Endpoint.
Setting Individual Campaign Toggles
Setting Individual Campaign Toggles
To do this, go to Campaigns, and click the Campaign ID. From here, click the Toggles tab located in the middle of the Campaign page. Any changes you make here will take effect and override anything configured in the Default Campaign Toggles setting.
Note
Duplicating a Campaign will copy the Toggle Settings from the original Campaign.
Repeat Caller Handling
Repeat Caller Handling
There are some terms you need to familiarize with when toggling repeat caller handling settings explained below:
Duplicate call
A call that is routed to a Call Endpoint (Buyer) in the same Conversion Group it has previously converted in during the De-dupe period designated in the Conversion Group.
Repeat call
A call coming into the same promotional number. The Toggles on the Campaign dictate how repeat calls are handled. A call can be a repeat, but not a duplicate if it is going to a Call Endpoint (Buyer) that is in a different Conversion Group.
Calls from the same Caller ID on a different promotional number are considered unique. Are you routing calls to multiple Call Endpoints (Buyers)? Callers being routed to the same Call Endpoint (Buyer) more than once could be costing you revenue - you can now force your callers to be sent to a new Call Endpoint (Buyer). Just enable the New Buyer toggle for increased conversions.
Default setting routes calls in normal round robin fashion - of course taking into consideration caps, priority, weight and other routing criteria.
Previous Call Endpoint (Buyer) forces repeat callers to skip any IVR and the call routes directly to the last Call Endpoint (Buyer) they were routed to. When you're testing the system and you suspect the IVR isn't working properly for your test calls, check this setting to ensure your caller ID isn't being auto-routed and skipping the prompting you've configured.
New Call Endpoint (Buyer) allows you maximize your revenue while Retreaver routes repeat callers to a new Call Endpoint (Buyer) each time.
Note for Repeat Caller Handling
Note: If "Repeat Caller Handling" is enabled on a campaign toggle - Tags associated to prior calls will be carried over to subsequent return calls.

This could cause duplicate tag issues if the tags assigned were meant for a single call instance, such as the case with ping/post integrations that return bids or transfer numbers.

In order to prevent repeat caller handling from retagging subsequent calls, please open a support ticket to request a flag on your account in order to disable this feature while still maintaining the ability to route to previous or new buyers that come with the repeat caller handling functionality.
Call Recording
Call Recording
This toggle allows calls to be recorded.

To access your call recordings, view the Call Log, scroll all the way to the right of a call row to reveal the

button.

You may also view your call recordings from the call flow page under the "Call Recording URL" link.
Conversion Propagation
Conversion Propagation
When the Conversion Propagation Toggle is on, calls routed to other Retreaver users will sync the call forwarded time (time connected to the Call Endpoint (Buyer)) and will also only convert the call if the call converts on the receiving parties Call Endpoint (Buyer).
Publisher Management
Publisher Management
For collaborators that have been invited with Publisher roles, enabling this toggle allows collaborators to create or destroy numbers for any Call Source (Publisher) assigned to them in the collaborator edit screen.
Click-to-Call
Click-to-Call
This is a security toggle to ensure that you intend to allow outbound dialing from this Campaign. This toggle must be on for the Programmatic call initiation to function for this Campaign.