Retreaver's Permissions feature allows you to give all or certain Collaborating Call Endpoints (Buyers) specific abilities to edit their record in your Retreaver account. This can empower them to make any urgent changes without needing to disturb you.
This feature offers a customized and granular set of controls over all your Collaborating Call Endpoints (Buyers) and what they are allowed to change.
Warning
If the Collaborator functionality is new to you, you may find our support article on Collaborators helpful to read before continuing.
---
Default Company permissions
Permissions can be locked to the entire Company or to a specific Call Endpoint (Buyer) Collaborator. If the Call Endpoint (Buyer) is unlocked, the system will just use the permissions specified for the Call Endpoint (Buyer). A Company-wide default setting can be configured for all Collaborating Call Endpoints (Buyers) to inherit, even as you add new ones.
Go to Settings in the left menu and click Company, then Edit Company. You can choose what you would like them to be able to view and modify by default.
In the example below, this person is able to modify a number in case they need to change it, as well as pause and unpause in the event that there is an emergency. The more sensitive data is hidden, as you can see with the None column.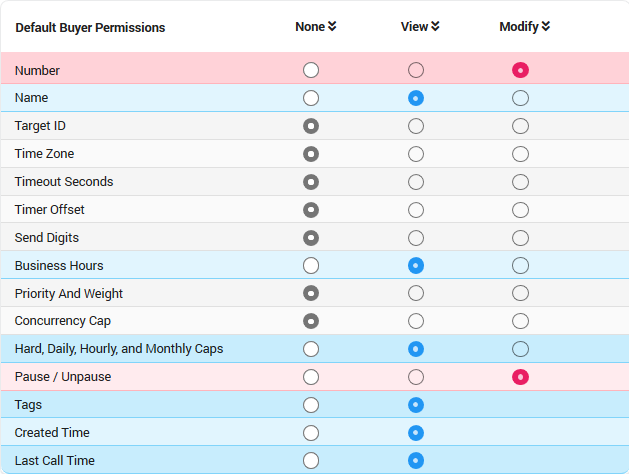 All Collaborating Call Endpoints (Buyers) have these permissions by default unless overridden by editing permissions explained further along.
---
Collaborator permissions
You may also edit permissions for a Collaborator in the event that they manage multiple Call Endpoints (Buyers).
By selecting Settings on the left menu, followed by Users and Collaborators, you can then select Permissions to the right of the desired entry.

Note
status means the recipient has not yet clicked the link in the email - be sure to check junk mail.
status means the permissions have not yet been configured.
status means the invite has been confirmed and permissions have been set.
Depicted in the screenshot below is a role customization example for "John Smith".
John manages two Call Endpoints (Buyers). On this screen, these default settings (configured above) can be unlocked and overridden with settings decided here.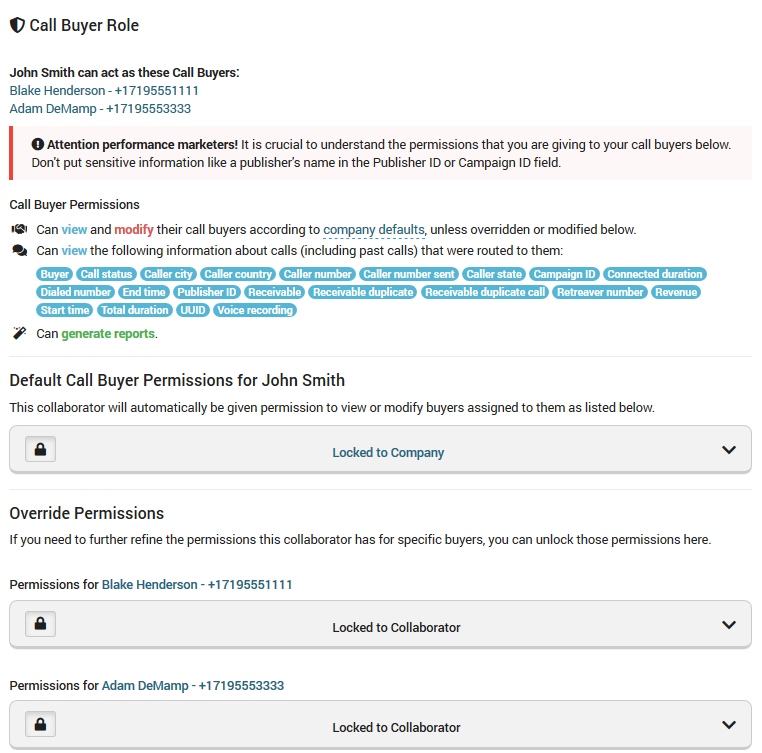 ---
Call Endpoint (Buyer) permissions
You can further override anything you've configured in the company defaults or the collaborator record above by clicking on the number on your Call Endpoints (Buyers) page, then select the Permissions tab. From here, you can open the padlock and override the permissions for any collaborator managing this individual.

Note
This method of editing the Permissions at the Call Endpoint (Buyer) level overrides all that is set in the company or in the collaborator levels explained above.